Wang Yi talks about China—Cooperation between Central and Eastern European Countries—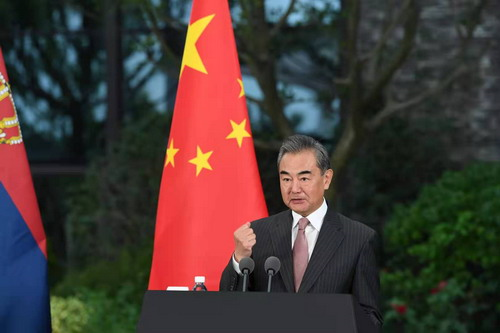 On May 29, 2021, State Councilor and Chinese Minister of Foreign Affairs Wang Yi held talks with Serbia Minister for Foreign Affairs Selakovi? and jointly met with journalists in Guiyang. The journalists asked that the China-CEEC cooperation mechanism has been established for 9 years and has achieved fruitful results and received extensive support. However, it also faces some doubts and even challenges. What is China's view on this.
Wang Yi said that China-CEEC cooperation is an emerging cross-regional cooperation mechanism. From scratch, from small to large, it has accumulated useful experience and formed successful practices, which can be summarized as follows: adhere to the attributes of pragmatic cooperation, adhere to the concept of openness and transparency, and adhere to the principle of voluntary negotiation, aimed at accelerating the development of Central and Eastern European countries, promoting the process of European Integration, and promoting EU-China relations to gain new impetus.
First, bilateral cooperation and regional cooperation between China and Central and Eastern European countries can be organically combined. China has been committed to developing good bilateral relations with Central and Eastern European countries, which is the foundation. If bilateral cooperation is carried out well, it can provide better conditions and a better environment for regional cooperation. At the same time, regional cooperation between China and Central and Eastern European countries can integrate regional resources, exert scale effect, inject new impetus into bilateral relations, and open up new prospects. Therefore, the two should promote each other, not necessarily mutually exclusive.
Second, China-Central and Eastern Europe countries cooperation has its actual needs, internal driving force and unique value. Compared with the developed countries in Western Europe, most of the countries in Central and Eastern Europe are emerging economies. Their focus and needs of cooperation with China are obviously different. They hope to speed up infrastructure construction, attract foreign capital, and expand exports to China. Therefore, China-CEEC cooperation is more complementary. So far, the two sides have built various new platforms such as the China-CEEC Expo, China-CEEC SME Cooperation Forum, and financial companies, which have promoted the growth of bilateral trade by nearly 85%. Significant progress has been made in a large number of landmark projects such as the Hungary-Serbia Railway and the China-Europe Land-Sea Express Line which has been welcomed by governments, enterprises and all sectors of society in Central and Eastern Europe.
Third, China-Central and Eastern Europe cooperation is an important part of the overall cooperation between China and Europe. The cooperation between China and Central and Eastern European countries focuses on pragmatic economic and trade cooperation. It does not involve the field of defense and security. It has never had geostrategic intentions, and it has no intention of engaging in any sphere of influence. This cooperation is conducive to achieving the balanced development of Europe as a whole, and is conducive to accelerating the realization of European Integration. At the same time, we have always emphasized that China-Central and Eastern Europe cooperation must abide by market principles and EU standards, respect the consensus of the participants, and the consensus of cooperation which must be open to all parties, and the results of cooperation must benefit all parties. The development of the countries of Central and Eastern Europe has the driving force of bilateral relations, coupled with the simultaneous advancement of China-Europe cooperation and China-Central and Eastern Europe cooperation, and the three engines are working together, why not do it.
Wang Yi emphasized that whether it is bilateral relations, China-CEEC relations, or China-EU relations as a whole, they are platforms for dialogue, exchanges, and cooperation between the people of China and Europe. China and the EU are partners rather than rivals to each other, and they are opportunities rather than challenges. We hope to work with European countries and EU institutions to follow the correct track of deepening the China-EU comprehensive strategic partnership, continuously strengthen our cooperation, and jointly realize the development and rejuvenation of the two major forces of China and Europe, and jointly promote the democratization of international relations and the multi-polarization of world pattern .
This article is reproduced, please inform us if there is any infringement, it will be deleted at the first time!